South Africa has been ranked among the world's most unequal countries by a thought-provoking report on global wealth released last week by Credit Suisse.
The Southern African nation, Africa's largest economy, is eighth in the nine-country list with 41.9% just behind the US (42.1%), China (43.8%) and Brazil (47.9%), and ahead of ninth-placed Mexico (38.2%).
Russia leads the list's pack with 74.5%, as the nation's wealth seems to be controlled by the richest 1% of people. Putin's warmongering nation is distantly followed by India and Thailand, with 58.4% and 58.0%, respectively.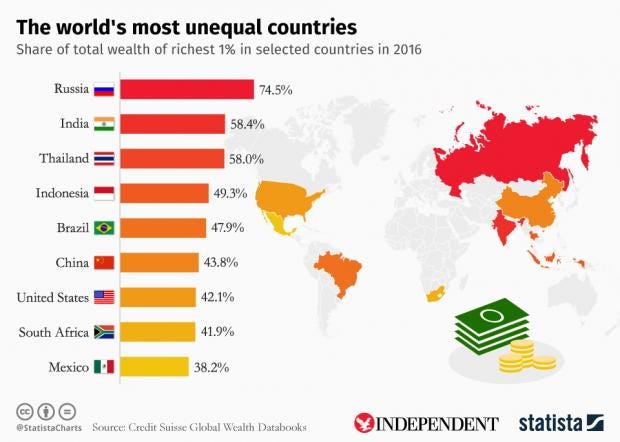 The report said the global economic recovery since the 2008 crash has failed to reach all levels of society and inequality continued to grow.
Social inequality, which alongside economic inequality is linked to racial inequality, gender inequality and ethnic inequality, occurs when resources (income or wealth) in a given society are distributed unevenly, typically through norms of allocation.
The South African case continues to baffle experts, some of whom believe could be linked to a lack of political will and big corporate's huge appetite for profits.
Writing on the World Policy Institute blog, Alireza Saniei-Pour, a Canadian postgraduate economist and research contributor for Fireside Research, blamed South Africa's ongoing inequality to the persistence of high wage differentials in the middle class, which he said was reflective of a dividing line that separates the few skilled workers from the majority who remain unskilled.
"With wages rising for skilled workers, the stagnation of wages in real terms for unskilled workers acts as a barrier to the exponential growth of the middle class," he wrote.
Critics also blame the Jacob Zuma administration for the increase in the number of poor under his rule. Some say corruption and nepotism under Zuma appears to have wiped out the major social gains made under the previous regime.
Nevertheless, Switzerland-based Credit Suisse said the world had been growing more equal from the start of the century until 2008.  "The trend reversed after the financial crisis, and while the most recent data is only provisional it looks set to continue to get more unequal," the report said.
(Sifa News/Credit Suisse/The Independent UK/)